This past June, Pipeline asked our vast community of theater-makers of all stripes to send us their big ideas for a one-night-only developmental production in Spring 2016. We picked just one of those big ideas, and have been secretly working with our mystery artist team to bring it all together over the past 6 months.
Today, we are pleased to come to you with an exciting announcement. Our Mystery Artist team is:
Next week will be the big unveiling of their mystery project, so you still have seven days to grab tickets for only $15. Once we reveal the Mystery Show, tickets will go up to $20. Put your faith in us and save!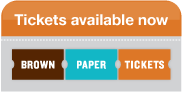 Saturday, June 4, 7:30PM
Gym at Judson, 243 Thompson St.
Mystery Artist Bios
Kevin Armento's plays include Please Excuse My Dear Aunt Sally (59E59 Theaters, New York Times Critics' Pick; upcoming at Edinburgh Festival), Companion Piece (Pleasance Theatre, London), killers (Tom Noonan's Paradise Factory), and Good Men Wanted (Ars Nova, Arena Stage.) His work has been developed at Seattle Repertory Theatre, Cape Cod Theatre Project, Dixon Place, Naked Angels, Theatre503, and The New Ohio. He is a current member of Ars Nova's Play Group, a resident artist at The Drama League, and has received commissions from the Abingdon Theatre and One Year Lease. He has been a regular contributor to Culturebot and The Huffington Post, and his spec script Comfortably Numb was recently optioned by CBS Studios. www.kevinarmento.com
Jaki Bradley is a Brooklyn-based director of new plays and musicals. Recent projects include Good Men Wanted (Arena Stage), I've Been to Sea Before (TONY Critic's Pick), #liberated (Ars Nova), and What Every Girl Should Know (TONY Critic's Pick). She has also developed and presented work with The Public, Williamstown, Naked Angels, The Flea, and Atlantic Acting Studio. As an assistant director, she has worked with Michael Greif, Leigh Silverman, Lisa Peterson, and Daniel Aukin, among others. She is a Drama League Artist-in-Residence, a member of the Soho Rep Writer/Director Lab, the Williamstown Directing Corps, the Lincoln Center Director's Lab, and a U.S. Fulbright Scholar. www.jakibradley.com
James Williams is a multi-talented artist and musician based in New Orleans. He leads the New Orleans Swamp Donkeys, a band that specializes in Early Jazz with a particular focus on Louis Armstrong. Led by James, the band has performed for storied clubs and festivals across the world, including The Blue Note, Ronnie Scott's, The Hamilton, Cliff Bell's, and Ginny's; as well as North Sea, Edinburgh, Ascona, Megève, and New Orleans Jazz Festivals; plus Monte Carlo Sporting Summer Fest, French Quarter Fest, and many more. The Scotsman called the Swamp Donkeys "an exuberant and fairly unstoppable force," and in comparing James to Louis Armstrong, Stephen Duffy on BBC Scotland's The Jazz House said that James "is resolutely his own man." James recently led his band to viral video stardom with the traditional jazz version of the theme song from Game of Thrones. James is also a regular with Treme Brass Band and Hot 8 Brass Band, and has played in dozens of other bands and with hundreds of musicians in New Orleans over recent years; as part of the New Orleans Jazz Orchestra, James sang solos and duets with Grammy-winner Dee Dee Bridgewater at storied clubs around the world, including New York's Apollo Theatre. In all of these bands, James can be found on trumpet, vocals, and tuba (and sometimes even saxophone and trombone). www.jameswilliamsjazz.com