Just can't wait for the The Gray Man? Well now you don't have to.
Get an early look with our very short film: Poor Babe in the Woods
And grab your tickets before September 8 to get that early bird rate. Why pay more when you don't have to? Get Tix.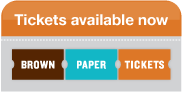 Become an Associated Work
We've got a space and we're looking to fill it! Throughout the course of The Gray Man, we're programming in one-night-only engagements on each of our dark nights. Currently, October 6 is still available. Got a reading, workshop, or other small event in need of a home? Email [email protected] for rates and details.